Can I connect my SMS Gateway to GFI FaxMaker?
You can of course use your SMS Gateway to send text messages from GFI FaxMaker.
ê It is recommended to create a new user for accessing the HTTP API.
1. Activate the SMS service in GFI FaxMaker
Click on SMS with the right mouse button in the GFI FaxMaker Configuration and select the option Eigenschaften.


Select the option SMS-Gateway aktivieren in the tab Allgemein.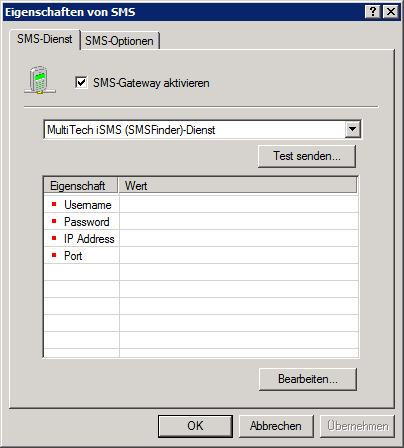 Source: https://manuals.gfi.com/de/fax19/Content/ACM/SMS/SMS_gateway.htm
3. Select MultiTech iSMS (SMSFinder)-Dienst and use the following settings:
| | |
| --- | --- |
| Option | Description |
| IP-Address | IP-Address of the SMS Gateway |
| Password | Password of the system user |
| Port | 443 |
| Username | Name of the system user |
4. Click on OK.
2. Testing the functionality
1. Click on Test senden... to verify the settings.
2. Enter the phone number of the test receiver to send a text message and to edit the message.
3. Click on Senden, to transmit the test message. Verfiy the arrival of the test test message on the test receiver.
i This article is based on GFI FaxMaker 19 SMS Gateway Einstellungen.